This article covers two currency related topics. First, we will explain how to add foreign currency expenses. This is a common scenario if you travel outside of the US for work. Second, we explain how to change your default base currency setting. This might apply to you if you live in a different country than your company headquarters and most of your expenses are not in the USD currency.
Adding Foreign Currency Expenses
TriNet Expense Management allows you to enter expenses in a foreign currency and the system will automatically convert those expenses to your base currency. This can be done from the Expenses page.

Hover over Expenses and click Active.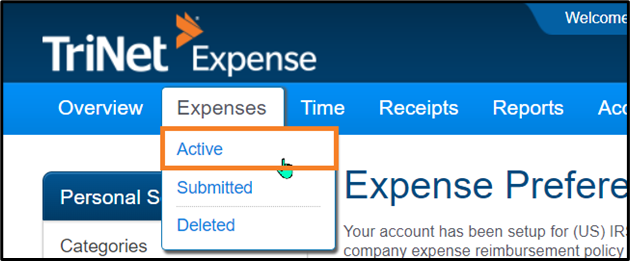 Click +Add New Expense button



Click the gray Edit Details tab, beneath the Category column.


In the Currency field, select the desired currency from the drop-down list. After selecting the currency, continue adding all additional information into the expense, (Date, Merchant, Category, Amount, etc.) and click Save. Repeat this step until you have added all foreign currency expenses.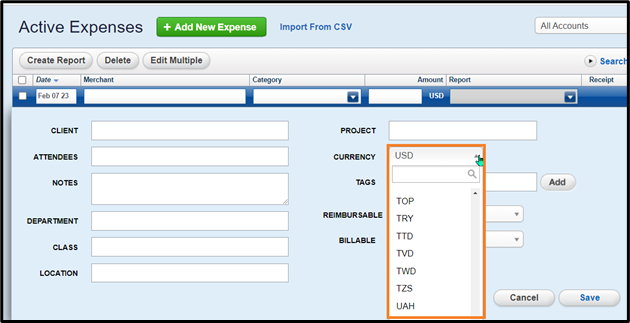 When you're ready to create a report, check the box for each expense that should be included in the report and click the Create Report button.



Once the report is created, the foreign currency expenses will be converted to your base currency. The conversion rate used is based on the date of the expense. To see the conversion, click the expense, then click the Edit Details tab. Below is an example of what you will see.

Changing Your Base Currency
Your TriNet Expense account's base currency will default to the currency set by your company. The steps below outline the process to change your individual base currency. An appropriate example would be a Canadian employee that works for a US Company.

To change your base currency, go to Settings > Personal Settings > Expenses.

Find Base Currency and select your desired currency from the drop-down list > click Save. All newly created expenses will use this currency.



A Currency Rate Increase can be added if applicable.
Example: If you get charged 4% from your credit card provider for all foreign transactions, simply add the percentage and any foreign currency added will include this rate increase. The rate increase is calculated when an expense is added to an expense report.


For a list of currently supported Currencies: What Currencies Are Available in TriNet Expense Management?