To add new users to your account, you will first need to go to the Team page that is located in the Admin section on your left hand navigation bar.
Click on "Invitations". 



Once there, click on the blue Invite New Team Member button located on the upper left-hand side of the page.



After clicking the button, a pop up window will appear offering a template for you to enter in new user information.

First, you'll need to decide how much access your want to give your new user to the account. Choose "Administrator" to give them full access and "Employee" to give them restricted access.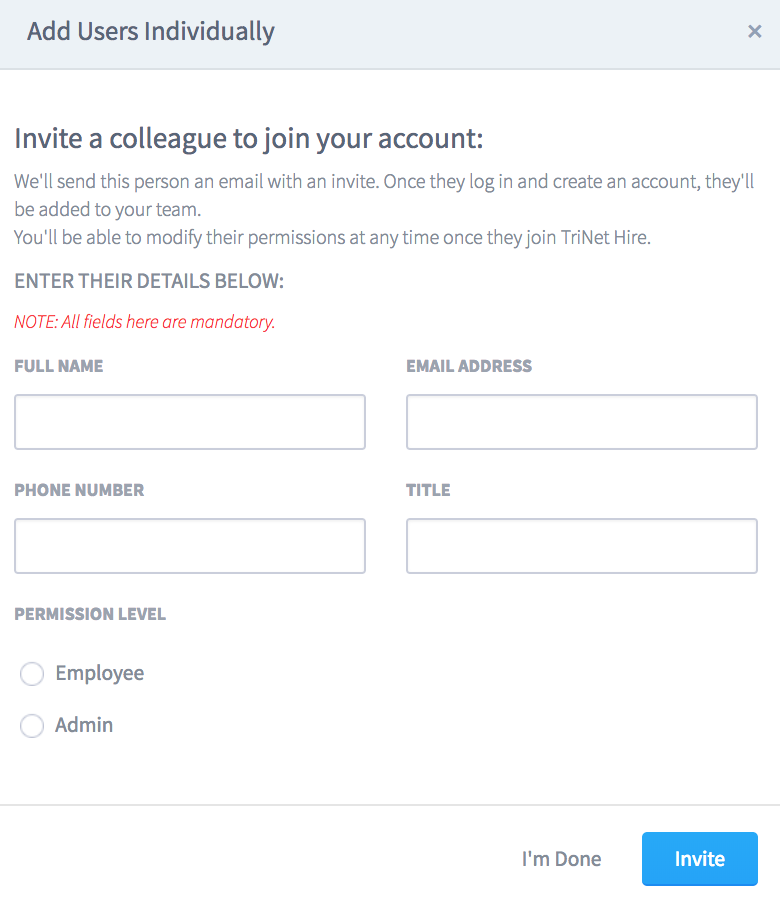 After you've chosen a role, you'll need to enter their core details including: 

* Their full name
* Their email address (the following email domains are NOT accepted:AOL, Email, Gmail, GMX, Hotmail, Hushmail, Lycos, Mail, Mailchimp, Mailinator, Mucho, Optonline, Outlook, Rocketmail, Yahoo, Yandex, Ymail)
* Their phone number
* Their title 

Once you've provided that information, click on the blue Invite button on the bottom right side of the window to send out the invitation.





The invitation will be sent to the user via the email you provided and that new user will now show up under the Invitations section.

You new user will be added to the Current Team Members section once they accept the invite.