The Content of the Template, the questions and the answers, is what populates the main panel of the review template. Here's a closer look at each of the elements.
Review Name
The Review Name or Title is what the review will be titled. It's important to name your reviews descriptively that everyone will understand on first glance. it's also a good idea to avoid generic titles like "Review" because it may confuse the managers which review is which.
Category Title
The Category Title is name of each group of questions and answers. Add more Categories by clicking on the Add category green button. In a review that measures Performance vs Potential, it's ideal to place all the Performance based questions under one category called Performance, and all the Potential based questions under Potential. That will simplify how your managers and executives read performance reports and get into comparative mapping.
Questions
Each Question is the foundation of the review. Add additional questions by clicking on the ADD QUESTION green button.


Here you can ask a performance based question and pair with one of four answer types. By clicking on the blue box under TYPE, you can select which answer type you'd like to use for that question.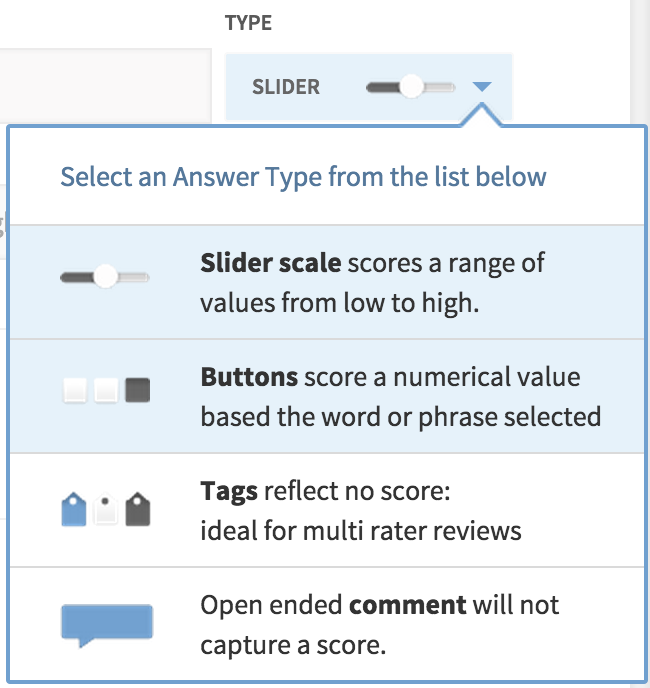 The Slider Scale provides a range from 1 to 5 where you define the Negative Field (on the left) and the Positive Field (on the right). The numbers 1 and 5 in the gray circles indicate the value score of 1 out 5 on the left, and a full score of 5 out of 5 on the right.

Buttons is a multiple choice selection of words that contain a score each. Typically used in the Below Expectations, Meets Expectations range, you can enter any terms from negative to positive that reflects the score percentage in the gray circle.

Tags is similar to the multiple choice buttons, except this time they don't record a score, but instead tag a keyword to a person's performance. This is most useful during a 360 review when getting a broad sense of someone's character, personality, and abilities.

Open Ended Comments are another answer type that does not record a score, rather gets raw feedback from the reviewer and is ideal in providing an overview of performance in their own words.