As a TriNet client, you and your worksite employees are offered the convenience of using Single-Sign On (SSO) directly from your TriNet account to your TriNet Expense Management account.
When accessing TriNet Expense Management, you will be logged into the account matching the work email address that is setup in your TriNet account.
To access TriNet Expense Management, continue with the instructions below.
Login to the

TriNet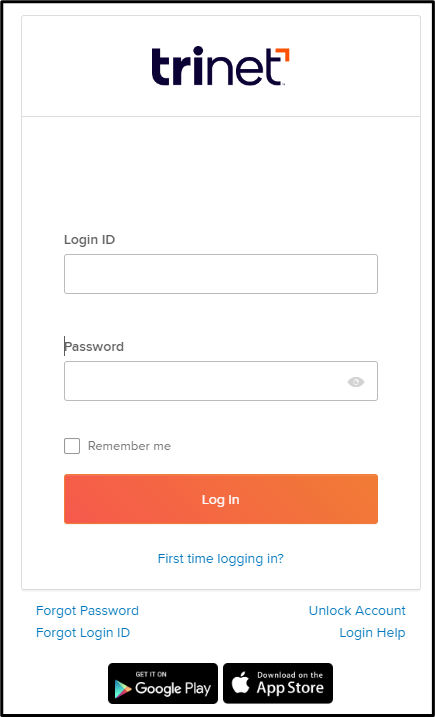 Your TriNet account will automatically default to

Employee View.
Note: If you have administrative access to TriNet for your company, you may need to change your view to Employee in the upper left corner of your account.
In the left menu bar, click

Money

then select Expenses
You will be redirected to your TriNet Expense Management account.
Note: Once you have completed the SSO from the TriNet platform, your payroll integration is complete.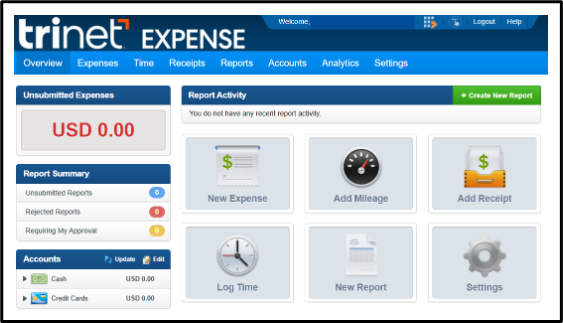 If you have any questions, log in to TriNet (login.TriNet.com) and click Contact TriNet. *
*If you are unable to log in, go to TriNet (login.TriNet.com) and select one of the following options: Forgot Password, Forgot ID, Unlock Account, Login Help.
You can import the list of Clients/Customers & Projects/Jobs from QuickBooks Online into TriNet Expense. This will allow your employees to select Clients/Customers & Projects/Jobs details for expense line items when submitting expense reports within TriNet Expense Management.
To setup Clients/Customers & Projects/Jobs within Expense, please do the following:
Your QuickBooks account need to be previously integrated with TriNet Expense. If you need to complete that step, please click on this article for assistance QuickBooks Online - Setup Integration.
Once integration is complete, please navigate to Settings > Company Settings > Clients & Projects
QuickBooks Online is chosen in the drop-down and click the Sync Now button.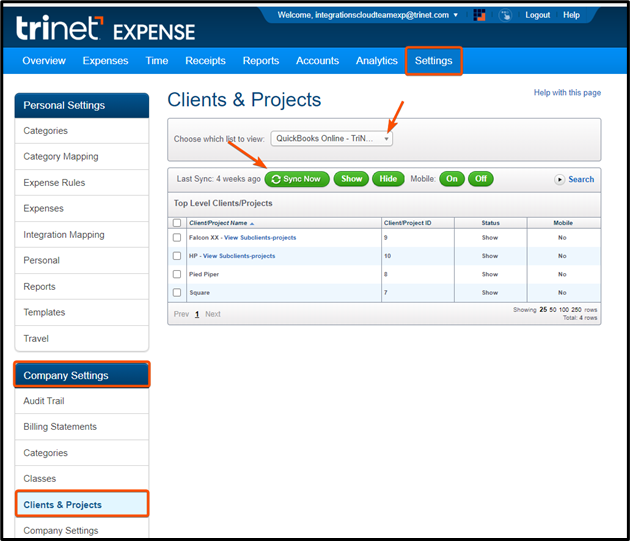 Once you see your QuickBooks Clients/Customers & Projects/Jobs, you may edit the status column to allow yourself (or company users) to select these for expense. Selecting the Hide option will make the items unavailable for users to select this customer or job.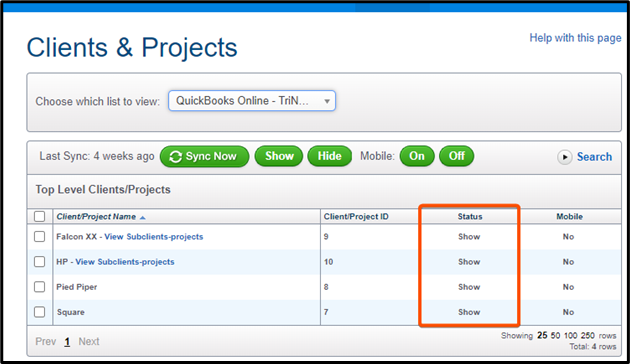 Employees will be able to navigate to Settings > Company Settings column > Clients & Projects > choose QuickBooks List > and select which Clients/ Customers will be available for users to select when they are submitting expenses.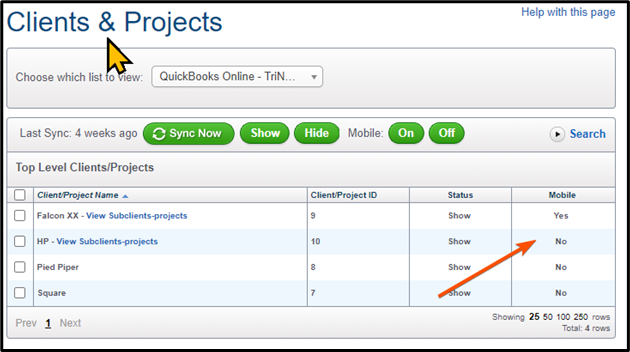 Now for each expense (found either from Expense > Active or directly within an expense report), a user can select the QuickBooks Client/customer or Project/Job for their expenses.
Please note: QuickBooks online Customers & Jobs can only be accessed from the Client ID text box or column. This is due to a limitation with QuickBooks Online support for Jobs. If you add the project to the customer, it will add the Customer when exported to QuickBooks online. Here is an example:
In QuickBooks Online you have the Customer "Dell" and the Job "Job 1". In TriNet Expense enter the Job "Job 1" in the Client ID column. When the data is exported to QuickBooks it will be displayed as Dell: Job 1 in the customer column of QuickBooks.
You can also add a QuickBooks's customer and/or job to the line-item expense by autosuggesting. Type the customer's name and TriNet Expense will auto-suggest matches.
Note: QuickBooks jobs in TriNet Expense are referred to as Projects.