Accounts can be added during the initial sign up process or anytime a user is logged into TriNet Expense.
To get started adding an account, go to the Accounts Tab and select your financial institution listed in the popular list.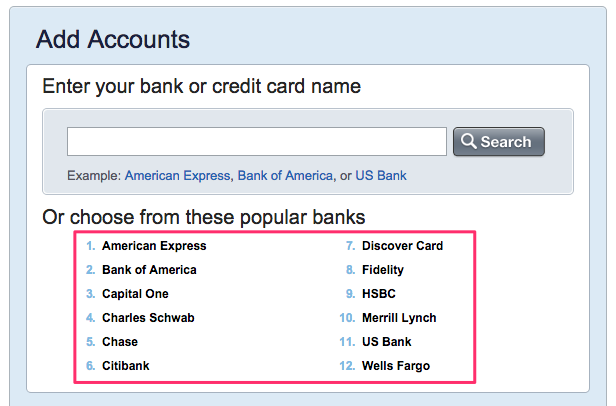 If you do not see your financial institution list, you can search for it by name. Once you see your institution listed, do the following:
1. Double-click on the appropriate card type (i.e. American Expense Corporate Card)
2. Enter your User ID/Password (Note: this is the User ID/Password that you use to login to your online bank account)
3. Mark the box "Company pays this card (Non -Reimbursable)" if you are syncing a company credit card. 
(Note: If you use a Corporate Card and do not pay your monthly bill, check the box "Company pays this card" and every transaction downloaded will automatically be marked non-reimbursable)
4. Choose how far back would you like TriNet Expense to download your expenses.
5. Choose how many weeks of expense reports would you like created (None, 1, 2, 3, 4 weeks)
6. Hit Add.
When a  user logs into TriNet Expense, a user's bank/credit card is automatically updated and it will inform the user that the account is up to date.
If you have a previous card that was causing duplicates OR displaying credits incorrectly, please delete the card in the Account tab and re-add it. We suggest you perform a sync from the old card before you delete. You can select the option to only import 1 day of transactions to prevent new duplicates from appearing.
Please Note: We ask for your online credit card username and password only to establish a one time, read-only, trust relationship between our site and the provider. Your account information is not stored anywhere on our system.
All information passed through our system is also encrypted using the financial industry standard 128-bit encryption for data protection. Our site's read only access to your credit card provider, also means we have no access to manipulate transactions or move money.
These are just a few of the things we do to make sure your experience with TriNet Expense is as secure as possible.