What is TriNet Direct Pay?

TriNet Direct Pay allows you to reimburse employee expenses directly from your company account to the employee's US bank account via ACH.


The Direct Pay feature costs $10 per month. Companies receive an allotted five expense reports to submit for reimbursement as part of the monthly fee, however any reports submitted for reimbursement after the initial five reports will be subject to an additional $1 charge per expense report.

For example, your company submits ten expense reports during a billing period. You will see the monthly charge of $10 that covers the first five expense reports, and an additional charge of $5 for the additional five expense reports. This additional charge for the expense reports is applied to the next subscription billing period.
How long does it take?
After an expense report has been submitted to TriNet Direct Pay, employees can expect to see the reimbursement in the receiving account within 4-5 business days. 

Only USD currency is supported for TriNet Direct Pay.
Install TriNet Direct Pay - Company
Please note, you must be an Admin or Company Owner to complete the Company setup.
To complete the integration of Direct Pay, please follow the following steps:
Click Settings.


Click Reimburse from the Add-Ons menu.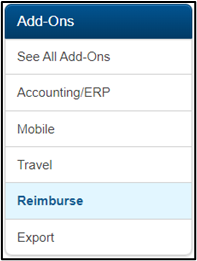 Find TriNet Direct Pay and click Install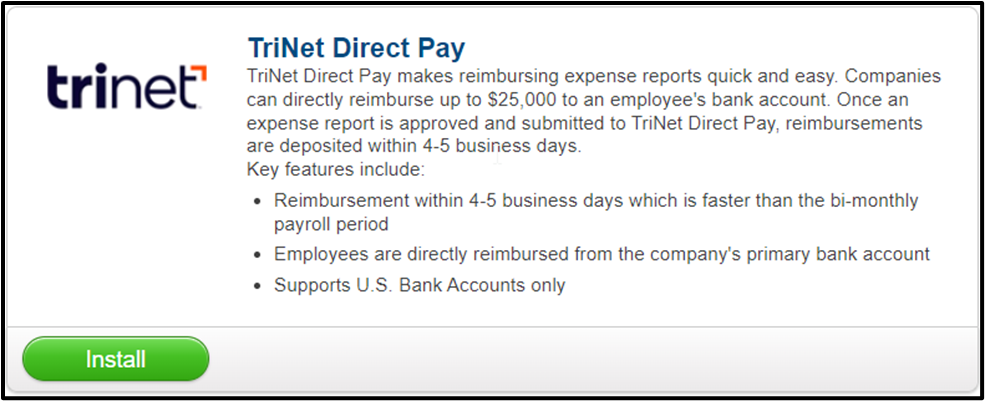 Complete all fields for Company Customer Information and click Save.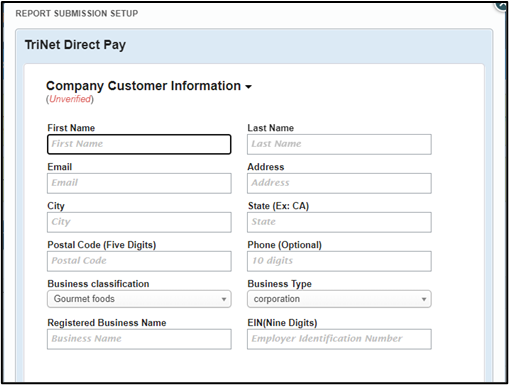 Depending on the business type you may also be asked to enter Company Controller Information.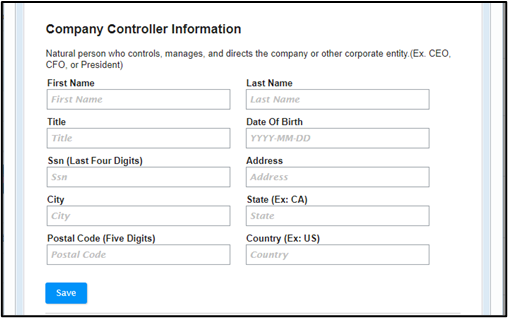 Verification
Once you have entered the above information, you will then be asked to upload documentation for verification. The screen will display a Document Type field where you can select the file type that you are uploading.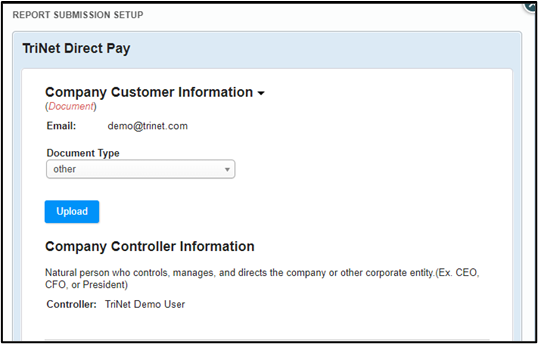 Acceptable forms of Documentation
Company Controller
The Company Controller can be verified by uploading a picture of a driver's license or a passport.  Please ensure that you enter the controller's birthday in the correct format.
Company Information
The Company Customer Information can be verified by uploading one of the documents below.
·         Partnership, General Partnership: EIN Letter (IRS-issued SS4 confirmation letter).
·         Limited Liability Corporation (LLC), Corporation: EIN Letter (IRS-issued SS4 confirmation letter).
·         Sole Proprietorship: One or more of the following, as applicable to your sole proprietorship: Fictitious Business Name Statement; Certificate of Assumed Name; Business License; Sales/Use Tax License; Registration of Trade Name; EIN documentation (IRS-issued SS4 confirmation letter); Color copy of a valid government-issued photo ID (e.g., a driver's license, passport, or state ID card).
Other business documents that are applicable includes any US government entity (federal, state, local) issued business formation or licensing exhibiting the name of the business enrolling with Dwolla, or; Any business formation documents exhibiting the name of the business entity in addition to being filed and stamped by a US government entity. Examples include:
·         Filed and stamped Articles of Organization or Incorporation
·         Sales/Use Tax License
·         Business License
·         Certificate of Good Standing
The ACH provider can take up to two business days to verify your company information. You will receive an email notice if additional documentation is required. If not, then you will receive an email that says your company was verified.

Once you have uploaded your documentation, the screen will show (Verification in Progress).  You will receive an email if the document is rejected for any reason.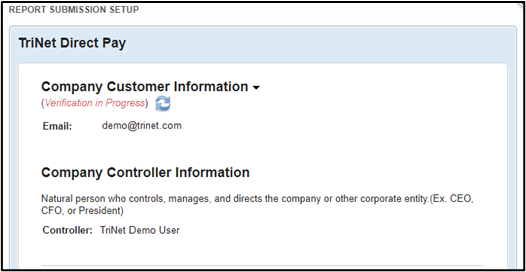 If you are having issues with document verification, please reach out to the Cloud Product Support team at cloudproductsupporteam@trinet.com.
Beneficial Owner(s)
By default, this field is minimized to you will need to expand first. Click Add Beneficial Owner if there is a beneficial owner for your company, if not, please click the check box Beneficial Owner(s) Not Applicable.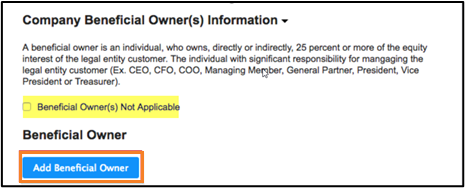 Once the Company Beneficial Owner(s) Information has been successfully verified, sign the Company Information Certification.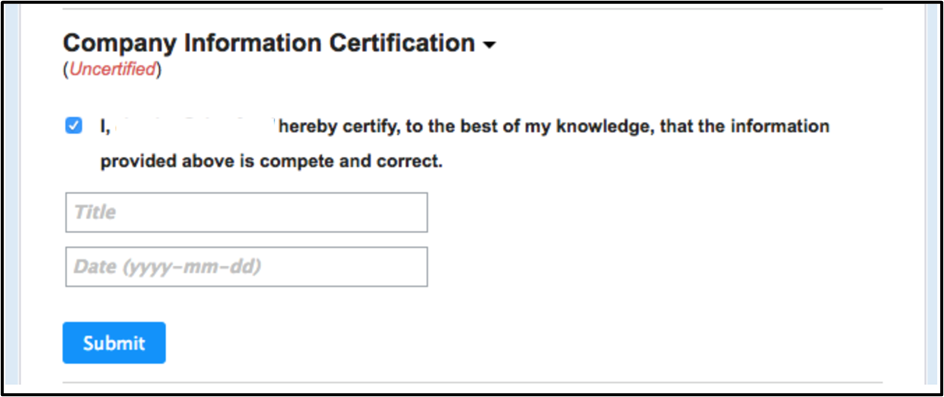 Company Bank Verification:
Enable or disable the ability for Bookkeeper to export expense reports for reimbursement

Agree to the terms of TriNet Direct Pay

Select "Verify your banking account".

Search for your bank or credit union that the funds will be withdrawn from

Use Instant Verification which will require your online banking details (Same day verification)
Use Deposit Verification which will deposit two micro deposits into your account (It may take 1-3 business days to view the deposits)

Employee Verification
Employees cannot integrate their bank account until your company bank account has been verified.