Settings within Time Cards can be managed by clicking the

icon .
A screen will display allowing you to customize the following settings:
Position/Summary Settings
Time/Punch Settings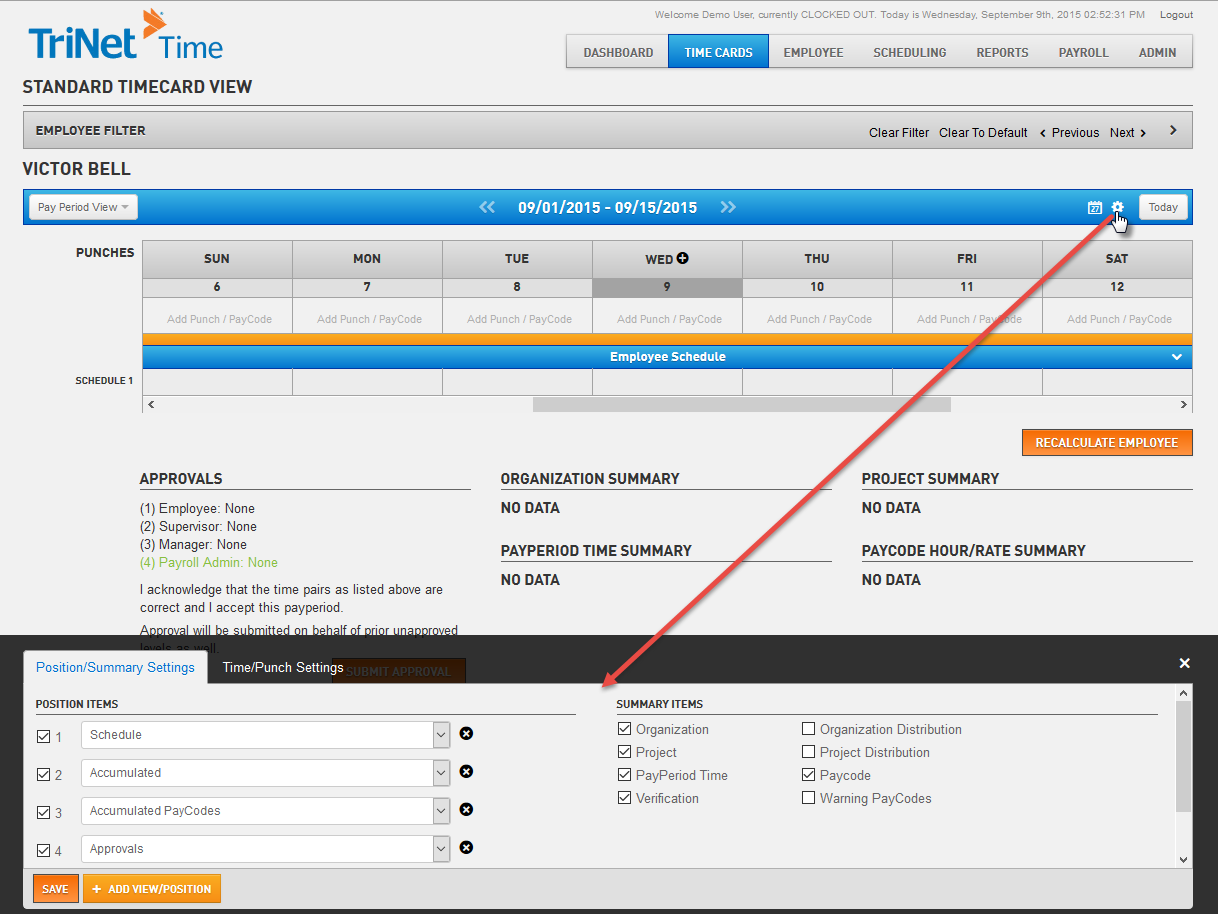 Position/Summary Settings
This section consists of Position Items and Summary Items which can be selected to display on the employee's time card.
Position Items allows you to add additional information to a time card. Example: Employee punches will always display, but it may be useful to see the scheduled time or accumulated pay codes for each day as well.
To add additional rows, click on

.

Activate your selection by checking the box to the left.

Click

when completed.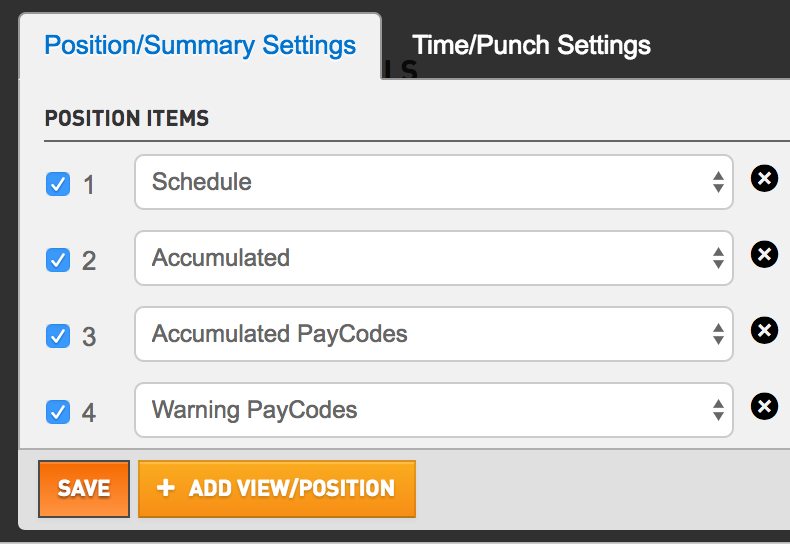 Check the boxes for each Summary Item that should be added or removed from an employee's time card.

An example of an employee timecard with added position and summary items is shown below. Data will display only when it is available for the employee.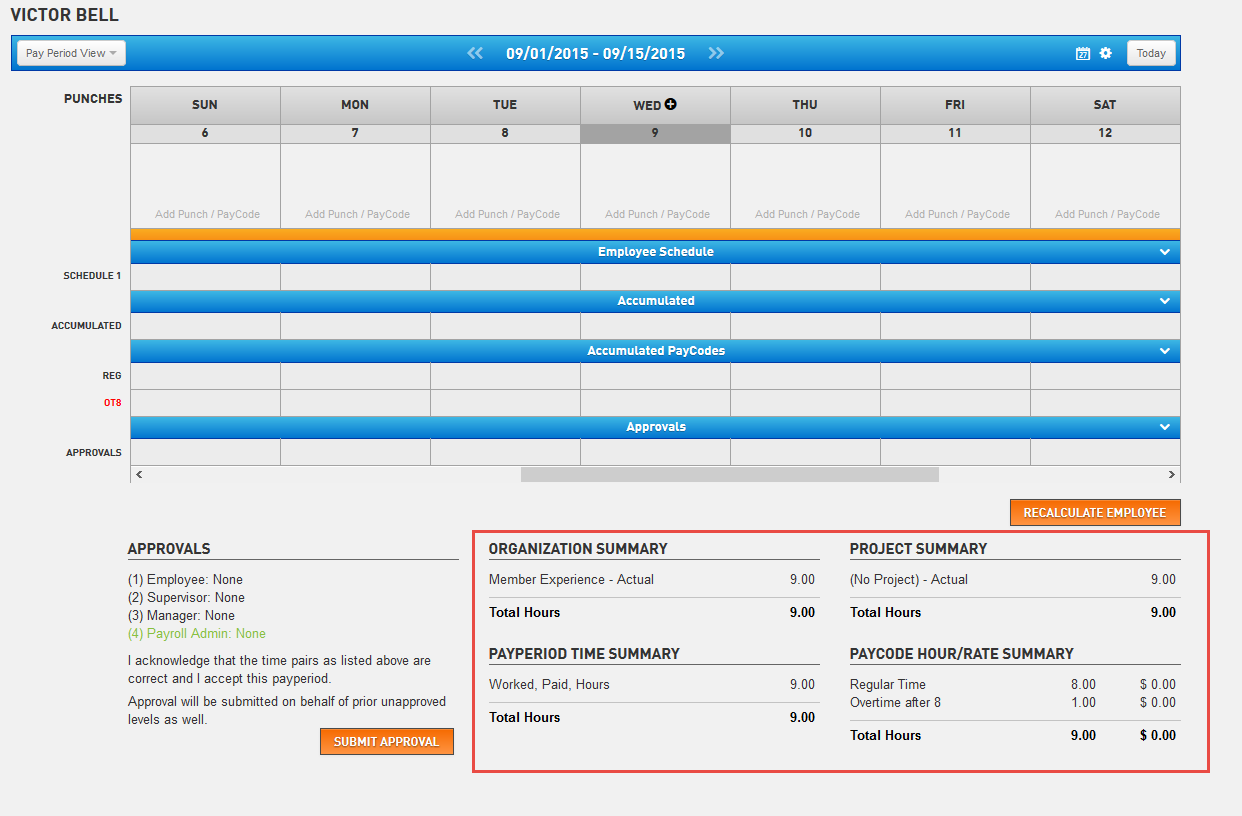 Time/Punch Settings

Time/Punch Settings allows you to control the level of details displayed in employee time cards.

Time/Punch Settings include:
View Time

– Select the time format display on an employee's time card - 24 Hour, AM/PM, Decimal, 24 with Seconds and AM/PM with Seconds.

Time Card Recalculation

- Select how the time card should be recalculated - manual or automatic

Accumulated Time

– Select to view time in decimals or hours.

View Punch

– Select to view the actual time card punch or to view the time card punch rounded to the nearest half hour, hour, etc. Your rounding settings can be set up under Admin > Policies > Rounding.

View Phantom Punch Indicators

- Select to view the phantom in/out punch indicators if desired. Phantom Punches are periods of unpaid time between your original punch in and punch out, such as a break or lunch. See the Phantom Punch article for additional information.

Additional Punch Indicators

– Indicate Modified and/or Manual punches on the time card.

Group By

– Group By Work Start and all punches will display in one day, even though an employee clocks out the next day. This avoids confusion regarding IN and OUT punches after midnight.
For further assistance, please reach out to your manager or Payroll Admin.

Copyright 2021 TriNet. All rights reserved. All trademarks, trade names, service marks and logos referenced herein belong to their respective companies. The content of this document has been prepared for educational and information purposes only. The content does not provide legal advice or legal opinions on any specific matters. Transmission of this information is not intended to create, and receipt does not constitute, a lawyer-client relationship between TriNet, the author(s), or the publishers and you. You should not act or refrain from acting on any legal matter based on the content without seeking professional counsel.