To access the TriNet Performance Tool application you will first sign into the main TriNet dashboard. You can login via a single sign on from the EMPLOYEE view (even for admins).
You must toggle to the EMPLOYEE view regardless of your roles> Click on Performance and Learning>Click on Goals and Review.
In Performance Management, there are several Goal options that can be set at the Company level to determine what goal categories are available to users, who gets to create and approve goals, as well as the number of days prior to a goal's due date or milestone's due date that email reminders go out.
NOTE - Goal Categories will need to be set up by a Company administrator prior to using the goal function.
To setup Goal Categories or set/adjust other company level Goal settings, logon to Performance Managment > click on Settings under the Admin menu on the left side dashboard > click on Goals and navigate to the Categories section.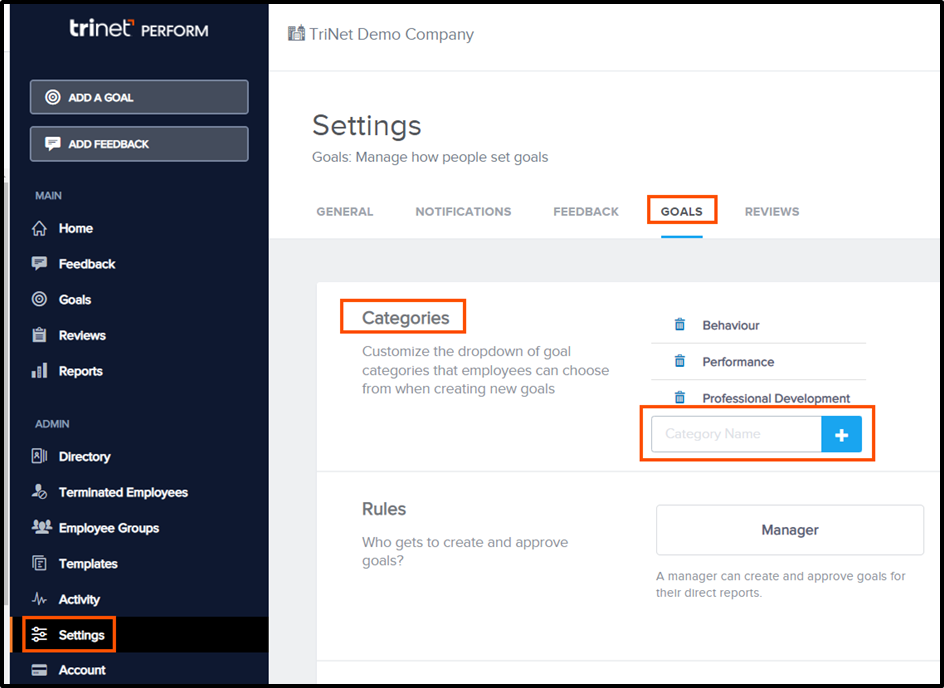 To create a new goal category > type in the box (category name) and then click the blue + button to save.

*If there are existing categories - you can delete them by clicking on the trashcan icon in front of the category name.
Additionally, an Administrator can set/adjust Rules, Goal Reminder, and Milestone Reminder options from under the Settings > Goals tab.
MANAGER- Only a manager can create and approve goals for their direct reports.
EMPLOYEE- Only the employee can create goals for themselves. Managers would still be responsible for approving the goal.
HR ADMIN- Admins can create goals for all employees. A manager can create goals for their direct reports. Employees can create goals only for themselves. Admins and Managers can approve goals. This is the most flexible setting and allows all users the ability to create a goal.

Once you have chosen, a blue message stating "The rule has been saved" will appear.