As a TriNet client, you and your worksite employees are offered the convenience of using Single-Sign On (SSO) directly from your TriNet account to your TriNet Expense Management account.
When accessing TriNet Expense Management, you will be logged into the account matching the work email address that is setup in your TriNet account.
To access TriNet Expense Management, continue with the instructions below.
Login to the

TriNet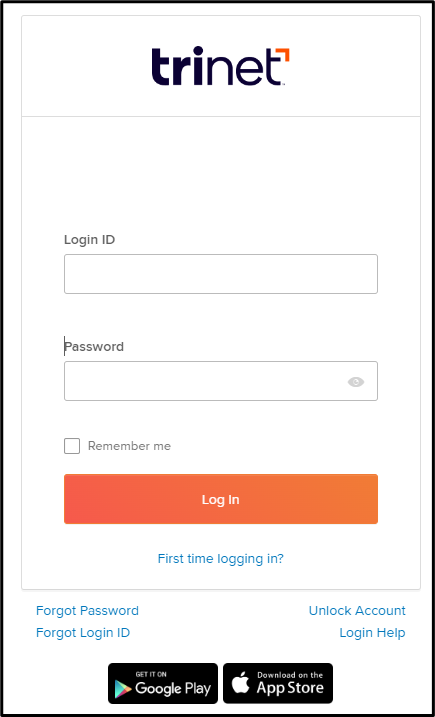 Your TriNet account will automatically default to

Employee View.
Note: If you have administrative access to TriNet for your company, you may need to change your view to Employee in the upper left corner of your account.
In the left menu bar, click

Money

then select Expenses
You will be redirected to your TriNet Expense Management account.

Note: Once you have completed the SSO from the TriNet platform, your payroll integration is complete.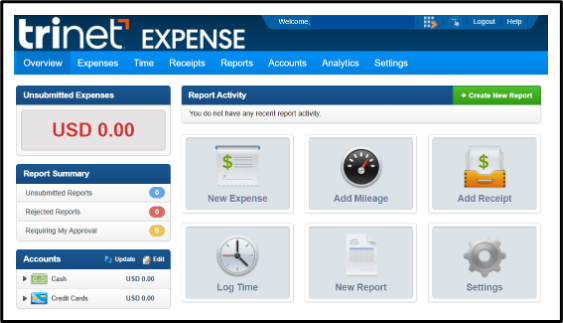 If you have any questions, log in to TriNet (login.TriNet.com) and click Contact TriNet. *
*If you are unable to log in, go to TriNet (login.TriNet.com) and select one of the following options: Forgot Password, Forgot ID, Unlock Account, Login Help.
TriNet Expense's export into QuickBooks Online is a simple one-time set up that links accounts, vendors, and employees' information between TriNet Expense and QuickBooks Online. As expense reports are created and approved in TriNet Expense, the integration allows a seamless synchronization, ensuring all the most up-to-date expense information is saved and available in QuickBooks Online.
(Note: Only Company Owner, Admin and Bookkeeper roles have permission to set up the integration.)
Please follow these steps to complete the integration of your TriNet Expense application and QuickBooks Online Accounting system.
1. Go to Settings > Add-Ons > Accounting/ERP. Find QuickBooks Online and click the Connect to QuickBooks button.
2. Log in using your QuickBooks Online Email or User ID & Password.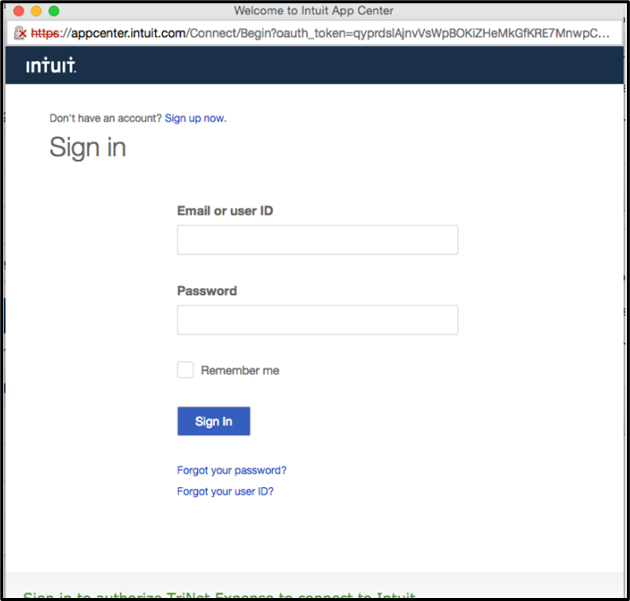 (Note: Intuit operates this login window. It is not a window provided by TriNet Expense, we are unable to advise on incorrect Email or User ID and Password details.)
3. If you have only one company set up, you will see Intuit automatically send you to the authorizations screen (shown below). Select the Authorize button so TriNet Expense can access your account.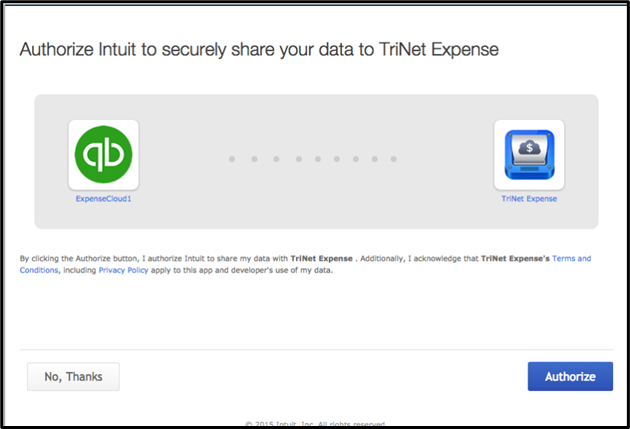 4. You will see a confirmation message once you are successfully connected. You can close out the window shown below once you receive the successful connection message as the image below shows. Going forward you will see an Intuit logo in the upper right-hand corner.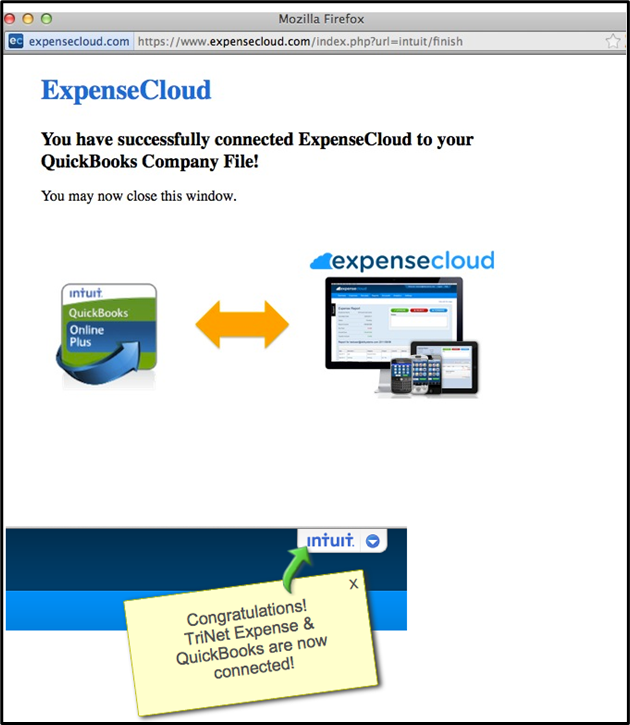 5. Go to Settings > Personal Settings > Integration Mapping.
You will need to map your TriNet Expense categories with your QuickBooks chart of accounts. The instructions to do this can be found in this link: QuickBooks Online - Importing & Mapping Categories
Additionally, see the following help articles for additional assistance: How To Submit To QuickBooks or How To Enable Quickbooks' Classes.