User Roles
Roles define how you can interact with TriNet Perform. Below you will find information on each role and instructions on how to change someone's role.
Company Owner

There can only be one Company Owner and this individual is at the top of the reporting chart. This means that this individual does not have a direct manager in Perform. The Company Owner can see all feedback, goals, and reviews.
Administrator Role (HR)

Like the Company Owner, admins can see all feedback, goals, and reviews in the system. Only admin and the Company Owner can create review templates and adjust settings withing your Perform account.
Manager

The Manager role is not assigned. Employees will automatically have the manager role if they have direct reports. The Manger view is almost identical to the employee view, with the additional visibility to their direct reports feedback, goals, and reviews.
Editing a Role
Admin can provide the admin role to employees. To change an employee to an admin, Click Directory from the admin menu.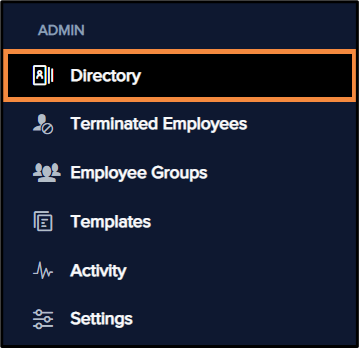 Find the user, then click on "Edit Profile".

Click the appropriate permission and then click Save.