User Roles
Roles define how users/employees interact with TriNet Performance Management. They are assigned when you add/edit employees in the directory. The following roles are available in TriNet Performance Management:
Company Owner
This is the master account that can oversee every facet of TriNet Performance Management. It is the top position in the organization and must remain at the top. If you delete it or move it somehow, it will disrupt the way reviews function. We recommend to add a second Role as Administrator or Executive for those companies whose operating structure is different, or if you have 2 or more positions sharing the CEO Role.
Administrator Role (HR)
This role allows users to manage, track and moderate reviews, system settings, and add/edit/delete employees in the org chart. If you're an HR, you can accidentally remove your own Admin role by editing your profile. Once you logout and back in you'll have lost your Admin rights and will need another Admin or you Master Account to return your administrator rights.
Administrator/ Billing Role (HR)
This role has the same permissions has the Administrator Role, as described above. However, the Administrator/Billing Role allows you to upgrade the Account and update billing information.
Manager
The manager role is limited to one (1) per department. The manager is automatically assigned to the lead of each department, selected when editing the Department.If you have somehow added more than one manager in a department, you will see strange and unpredictable results in the review and reports, if this is the case you would need to change the role by clicking edit and select the Exec Role and save. Then repeat, click edit and select Employee.
Editing a Role
To change a role for an employee, go to the Directory and find the user. Click on "Actions" to the far right hand of the user's name.


Then, click "Edit User".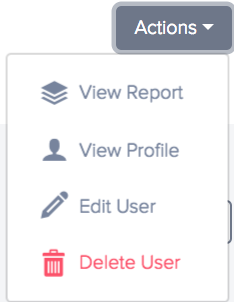 An Edit User window will appear. Options for their roles are in the Role drop down menu. Choose the role and click "Save User".