TriNet Payroll Submittal
How to Submit to TriNet Payroll from TriNet Expense
The company administrators who have the TriNet Payroll integration installed and have the Full Payroll Entry Access role within TriNet Passport will have permission to submit expense reports directly to TriNet Payroll.
Step 1 - The company admins can batch export reports to TriNet Payroll by
 viewing Reports > Company and selecting multiple reports that will need to be reimbursed. The company admins will need to select "Submit to Payroll" at the top of the page to complete the export process.
(Tip: Sort your Company Reports page by only viewing the "Approved and Unpaid Reports" to select reports to send to Payroll)
The company admins also have the option to submit the expense report for reimbursement individually by choosing the drop-down "TriNet Payroll" and clicking "Submit". The expenses will now be exported to TriNet Payroll for employee reimbursement.
Step 2 – Login to TriNet Passport. The payroll administrator can access the exported expense reports by viewing Payroll > Enter Payroll.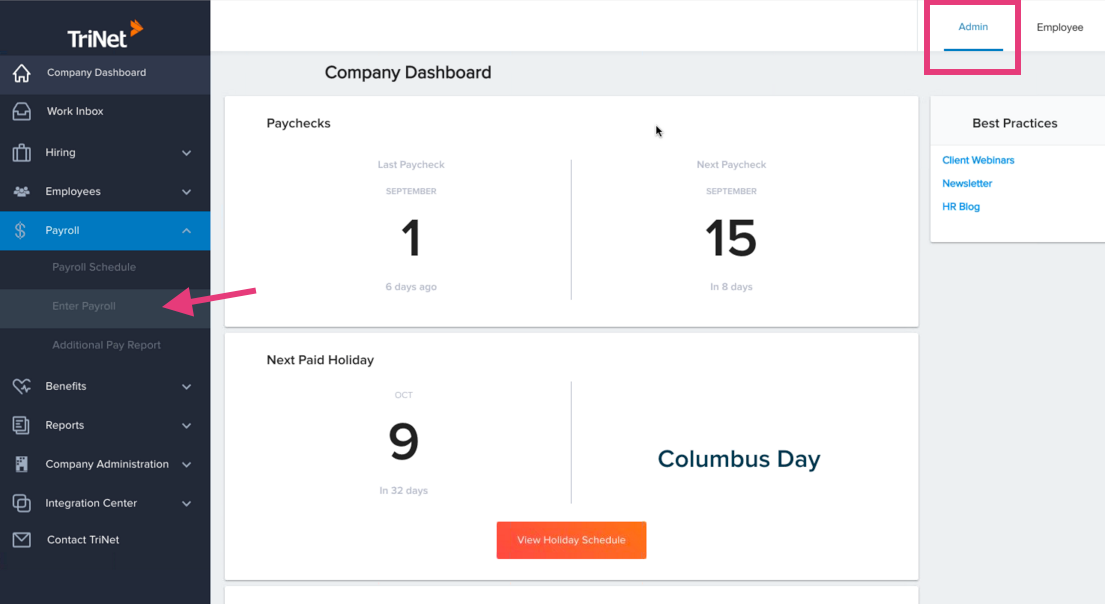 Step 3 - This will bring up the Payroll Dashboard which is used to access the payroll sheet. The pay group box shows the name of the pay group and populates below the timeline. They show when the pay period begins and ends.
Please click on the pay group in blue. This will direct you to Process Payroll.
Step 4 - Select "Load Expense" to display the exported expense reports for reimbursement. The "Load Expense" link will only display if the administrator has exported expenses from TriNet Expense to TriNet Payroll.
The load expenses page will display all expense reports that have been exported into TriNet Payroll from TriNet Expense.
Administrators can select the "+" symbol to view all expenses for the employee. Depending on the export, the expenses will be shown as individual expenses or a lumped sum of expenses to the payroll code.
Step 5 - Select the employees that will need to be reimbursed for the next payroll period. Select the individual employees, or select all by checking the box in the blue header column. Click on the "Select" button.
Once the desired employees have been selected, click on the "Load to Paysheet" button.
The expense reports that have been loaded to the paysheet will have a status of "Moved." The amount for "Total Moved" will change depending on which reports you loaded to the paysheet. The "Total New" amount will display the dollar amount of the reports that have NOT been moved to the paysheet.
The expenses will then be loaded to the Payroll grid.
Step 6 - Don't forget to click Save on the Payroll grid to save the expense reports to the sheet.
(Note: To remove expenses from the Payroll sheet for an employee reselect the load expense button and go to the "selected" tab, select the expenses that needs to be removed and select "remove" then "load to Paysheet")
For further assistance contact support@trinetcloud.com.